Return
Exhibition Current Textile Arts T-LAB December 3, 2011 till January 15, 2012
T-LAB presents contemporary visual artists who in a special way approach 'textile' in their art practice.
The participating artists display with their work the free research on the relevance which textile can have in a contemporary context through performance, video, installation, drawings, objects and sculptures. Textile is both component and point of reflection for the artists. The exhibition wants to give the audience an insight into a highly evolving, innovative and diverse 'textile' arts landscape.
ORIGIN
'An air-filled oval floating gently in blue light. It moves, it breathes. And hangs like a cocoon of tranquility in the area. The light, movement and sound of a deep, deep breath, it is an experience in itself. Dorette Sturm has something to do with these delicate, moving objects. She pushes the boundaries between the fragile skin of textile and the technique needed to bring the intallation to life.'
The ligh installation is presented in a special room to give the public the opportunity to experience the artwork in peace.
Location:
Campus TIO3, Oscar Delghuststraat 60, 9600 Ronse, België
Open 10:00 till 17:00
Monday, Christmas and New Year's Weekend closed.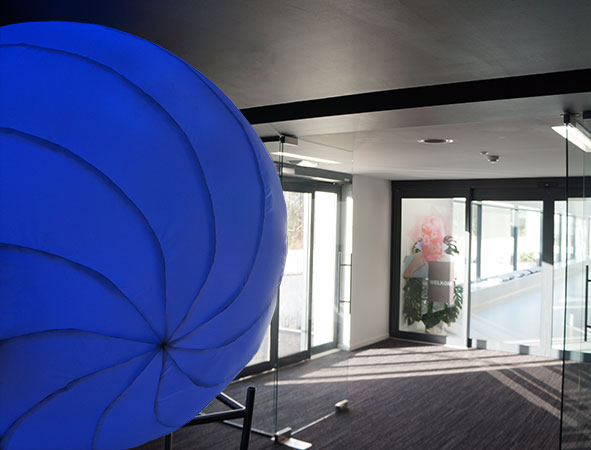 ---